Sojitz G Auto Philippines Corporation (SGAP), the official distributor of Geely vehicles in the country, is excited to announce the soft opening of Geely Albay Showroom. Situated along Maharlika Highway, Brgy. Salvacion, Daraga Albay, Geely Albay marks Geely's 37th outlet in the Philippines, further expanding its reach and bringing its exceptional vehicles closer to Albay residents. Operated by the renowned dealer group, GR8 Motors, Geely Albay features a spacious showroom area spanning 472 square meters. The showroom offers an inviting ambiance for customers to explore the latest Geely models, with 5 to 6 units on display, showcasing Geely's commitment to style, innovation, and cutting-edge technology. The length of Geely Albay's showroom façade stretches an impressive 27 meters, providing a visually striking entrance that adds to the overall appeal of the dealership. This attention to detail creates an immersive automotive experience, allowing visitors to fully appreciate the elegance and quality of Geely vehicles.
Geely Albay is dedicated to ensuring exceptional customer service beyond the showroom. Aftersales services are currently provided from a temporary facility, with a service area expected to be completed in Q3 2023. Once completed, the service area will cover 534 square meters on the ground floor, offering efficient maintenance and repairs for Geely vehicles. Additionally, a second-floor parts warehouse spanning 530 square meters will provide a comprehensive inventory of Geely parts, ensuring quick and reliable service.
"We are thrilled to announce the soft opening of Geely Albay, as we expand Geely's presence in the Philippines," said Yugo Kiyofuji, President and CEO of Sojitz G Auto Philippines Corporation. "Geely Albay, operated by GR8 Motors, showcases our commitment to delivering exceptional vehicles and customer service to the Albay province. We are excited to witness Geely's positive impact in this scenic and vibrant region."
Geely Albay is conveniently located at Maharlika Highway, Brgy. Salvacion, Daraga Albay. The dealership is open from Monday to Saturday, from 8:30 AM to 5:30 PM, welcoming customers in Albay and the surrounding areas. They may be reached through email address [email protected] and cellphone number 09171043071.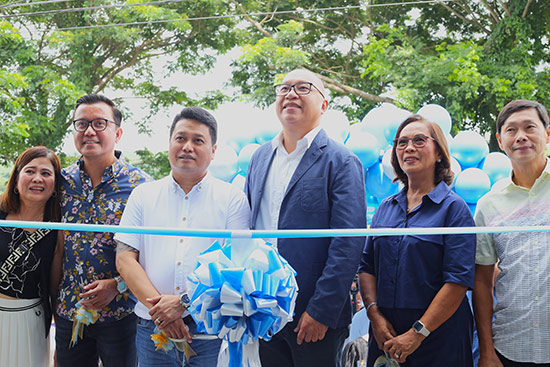 In photo, from L to R:
Leilanie Tan (Dealer Principal)
Congressman Alfredo Galvin (AKO BIKOL Partylist)
Mayor Alwin Baldo (Mayor of Daraga Albay)
Reggie See ( Vice President, Vehicle Sales Department and Flagship Dealer Department)
Engr. Concepcion Arjona (Dealer Principal)
Ladislao Tan (Dealer Principal)