Last January 2020, Sojitz G Auto Philippines (SGAP) announced that it was eyeing to open 15 dealerships that year and 15 more in 2021. Then pandemic happened. Operating a young business became a struggle and SGAP's dealership expansion plans were either pushed back or cancelled.
Geely continues to sail through pandemic challenges as it beefs up its efforts not only to attain its sales targets but also to rapidly expand its dealer network to be able to cater to more customers all over the country. With 11 Geely dealerships already fully operational nationwide, 13 more are slated to open soon.
As a new brand, Geely aims to bring convenience to many and to become accessible to more people as soon as possible. Just recently, SGAP has appointed new dealers for Geely Bacolod, Dagupan, Marilao, Bacolor, and Sumulong.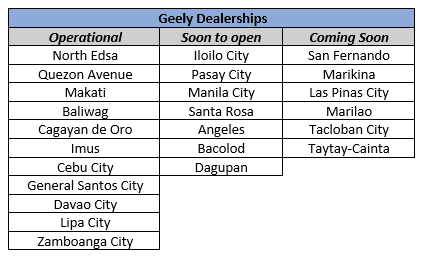 "We are taking a more aggressive approach in reaching out to more customers in the country this year as we keep up with our target network expansion schedules which were stalled by the long-standing global crisis," SGAP President & CEO Mr. Yosuke Nishi said.
Geely is one of the strong contenders in the country's car industry that surpassed many expectations in the past year, from product quality to sales volume, especially during the pandemic.
"As the crisis is seen to take longer, this year will definitely be another tough year to battle for many businesses. On the brighter side of things, I would like to believe that Geely was introduced in the Philippines at the right time, at a point where buyers are now demanding for more high tech and safety features in cars they wish to purchase yet still reasonably priced," Nishi said.
There's definitely a lot more to look forward to for Geely this year. Aside from its current expeditious expansion, new models will still be introduced during the second half of the year, bringing further excitement towards the brand.