True to its commitment to bring exciting, smart, and luxurious vehicles complemented with a new level of vehicle ownership to Filipinos, Sojitz G Auto Philippines (SGAP) network expansion plans for the Geely brand continues with the inauguration of 3 more dealer outlets. SGAP is adding Geely Marilao, Bulacan; Geely Sumulong Highway, Cainta Rizal; and Geely Dagupan, Pangasinan to its roster of operational dealerships.
Geely Marilao, SGAP's second dealership in Bulacan, is owned and operated by Autospeedygo Group under the Autospectrum Corporation. Autospeedygo also operates Geely Baliuag in Bulacan which started operations March of this year.
Geely Marilao is located at 150 Mc Arthur Highway, Marilao, Bulacan. It is a 1,300sqm showroom and service center which can accommodate a 5-car showroom display and 7 service work bays. The dealership is open from Monday to Saturday 8:00AM – 6:00PM.
Meantime, the Autohub group, which also owns Geely Quezon Avenue, has also established a new dealership in the East of Metro Manila. Geely Sumulong will be catering to its customers in Marikina and Rizal. Autohub group has been in the Philippine automotive business for over two decades. Through the years, it has established its name and credibility through the luxury European brands it handled.
Geely Sumulong is located at Sumulong Highway, Cainta Rizal. Its 440sqm showroom can display 5 cars while its offsite service center has work bays for six vehicles. The dealership is open from Monday to Saturday, 8:30AM-5:30PM.
SGAP is capped off September with the opening of Geely Dagupan, Pangasinan. This is Geely's first dealership in Northern Luzon, operated by the Motorcentrum Corporation under the Guanzon Group of Companies.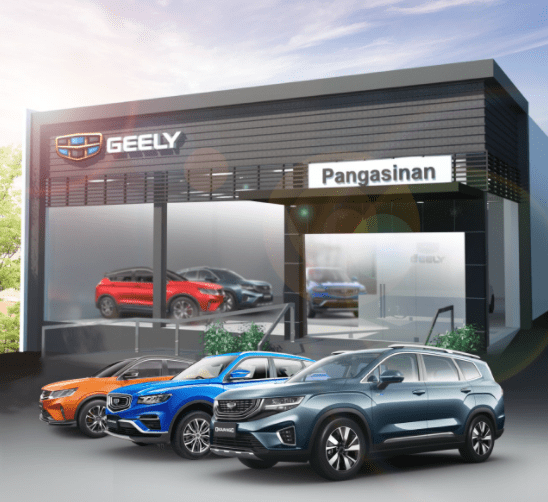 Geely Dagupan, Pangasinan is located along the Jose de Venecia Highway in Pangasinan. Its 465sqm Showroom can display 5 cars while its service center has work bays for 5 vehicles. This outlet in Pangasinan will be open from Monday to Saturday, 8:30AM-5:30PM.
SGAP President and CEO, Yosuke Nishi said, "We are really ecstatic that we were able to open 4 outlets this month of September, inspite of the challenges brought by the pandemic. This month alone we were able to open Sta. Rosa, Laguna followed by Marilao, Bulacan; Sumulong Highway, Cainta; and Pangasinan. These bring the total Geely outlets to 19, with more to be opened by yearend."
"We thank our business partners the Autospeedygo Group, Autohub Group, and the Guanzon Group for their confidence and commitment to the Geely brand through the opening of additional outlets under their respective franchises.", Nishi added.