Geely Auto's first model based on Compact Modular Architecture (CMA), Xing Yue launched
The world's first Coupe SUV with PHEV option
Comes with three powertrain options; traditional ICE, mild hybrid, and plug-in hybrid
PHEV version comes in two battery options with pure electric range of 56km and 80km
High performance 2.0T available with a record 0-100km/h of 6.8s
10 May 2019, Hangzhou Bay, Ningbo. Geely Auto's highly anticipated sports Coupe SUV, Xing Yue, officially launched at Geely Auto's first production facility dedicated to producing Compact Modular Architecture (CMA) based vehicles.
The new flagship SUV model is offered in three power options; traditional internal combustion, mild hybrid and plug-in hybrid, along with two- or four-wheel drive options. As part of the Blue Geely Initiative where Geely commits to electrifying its range of vehicles, the Geely Xing Yue will be the world's first Coupe SUV with a PHEV option that offers a pure electric range of up to 80km.
6.8s to 100km/h – Powerful and Efficient – Made for Drivers
Geely Auto has utilized the world-class CMA architecture developed at the China Euro Vehicle Technology Centre (CEVT) in Gothenburg, laying the foundation for Geely's Global Industry 4.0 product development system. By using the industry-leading CMA, Geely Auto is set to launch new global products that meet the standards of luxury vehicles with the first being the Xing Yue.
Kicking off the launch of Xing Yue, Geely Holding Group President and Geely Auto Group President and CEO, An Conghui said "As the leading Chinese auto brand, Geely's goal is to fully participate in the global market and become one of the top automotive groups in the world. In order to achieve this goal, we will comprehensively implement our "Global Refined Car Development Strategy," transitioning from the creation of China's refined cars to the creation of world-renowned refined cars. Geely has entered the era of modular manufacturing and have developed four industry-leading modular vehicle architectures, BMA, CMA, SPA, and the pure electric PMA to ensure we maintain an intergenerational leading edge for over the next decade. These cutting-edge core technologies will become the driving force for Geely to become a world-class brand."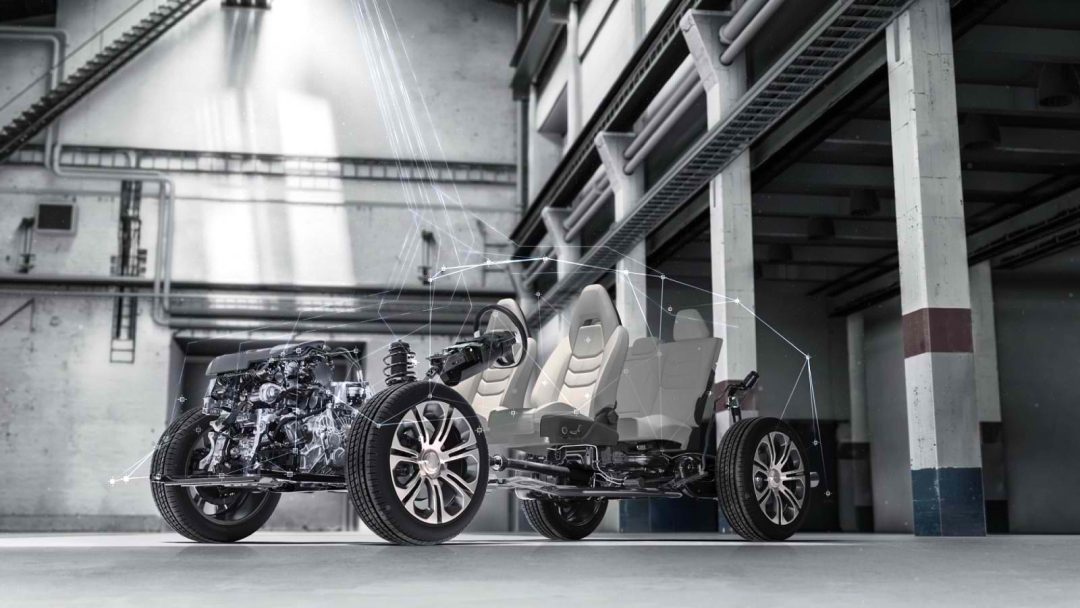 The Xing Yue is able to utilize a variety of high-performance and efficient power train systems. Among them is Geely's high-performance 2.0TD four-cylinder engine which is based on Volvo Car technology. The 2.0TD meets the world's most stringent emissions standards, including China 6b and Euro 6d, while offering a maximum power of 175KW and peak torque of 350 N·m, matched with an 8-speed Aisin automatic transmission. This powertrain combination allows the Xing Yue to accelerate up to 100km/h in 6.8s, making it one of the most powerful Coupe SUV on the market.
In addition, the Xing Yue also comes with new energy power options, including a mild hybrid system or a plug-in hybrid system that utilizes a 1.5TD and 7-speed wet dual-clutch transmission. The 1.5TD engine and 7DCT powertrain combination was jointly developed by Geely Auto and Volvo Cars. The 1.5TD has a maximum power of 130KW and maximum torque of 255 N·m. The 7DCT has an industry leading transmission efficiency of 97% and can shift gears in just 0.2s.
The world's first Coupe SUV with a PHEV option, Xing Yue comes with two lithium battery options, a high-capacity 11.3kwh version and an ultra-high capacity 15.2kwh version. The high-capacity version offers a pure electric range of 56km, combined fuel consumption of 1.6L per 100km, and a fast-charging time of 90 minutes. The ultra-high capacity version offers an extended 80km pure electric range, combined fuel consumption of 1.2L per 100km, and a fast-charging time of 105 minutes. The plug-in hybrid system increases the maximum power of the Xing Yue to 190kW and maximum torque of 415 N·m.
The Xing Yue MHEV model is matched with Geely's independently developed 48V BSG mild hybrid system. With the help of a 48V motor, the 1.5TD engine starts faster, becomes more efficient, and increases the maximum power of the vehicle to 140kW. The Xing Yue MHEV has an ultra-low combined fuel consumption of 5.6L per 100km.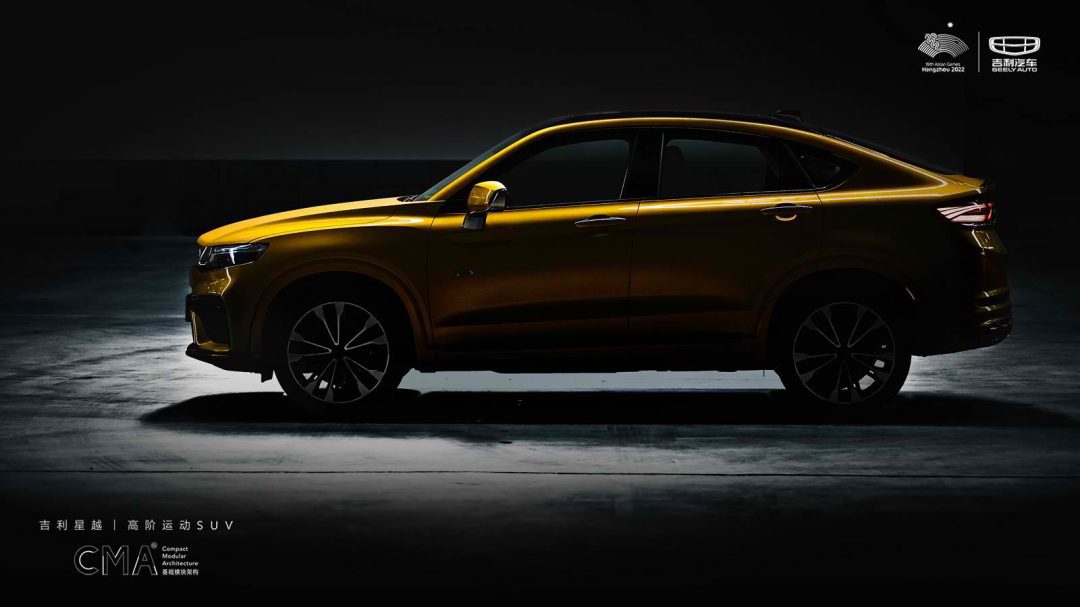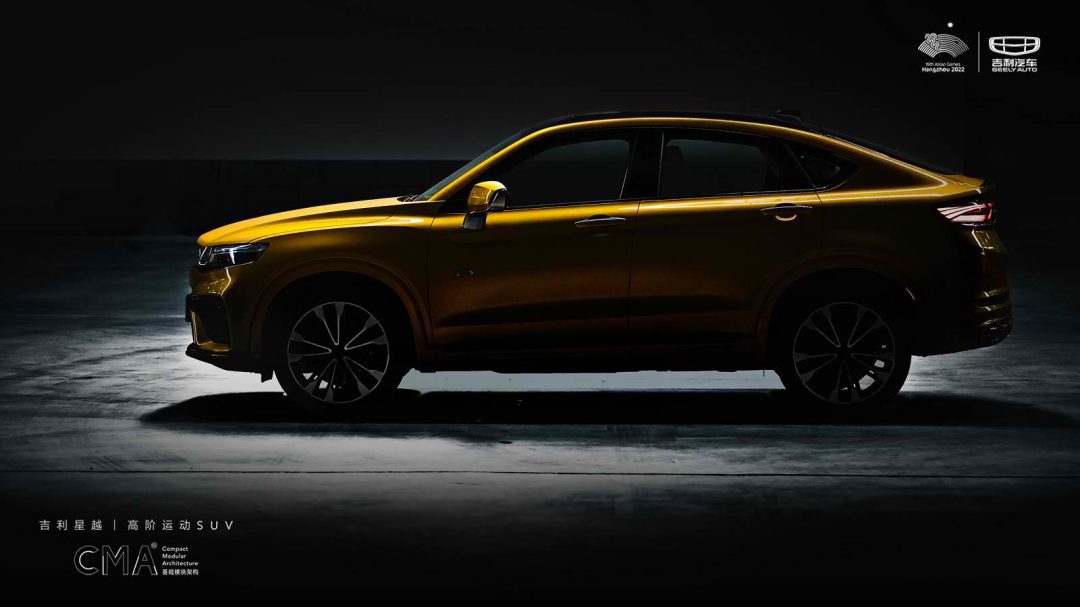 Redefining the Driving Experience
Thanks to the excellent chassis adjustment performed on the CMA and the application of precise control configurations, the Xing Yue is able to achieve a balance between sportiness and comfort. The Coupe SUV uses MacPherson front suspension and multi-link independent rear suspension.
Through the use of BorgWarner's fifth generation electro-hydraulic four-wheel drive system, the Xing Yue is able to intelligently switch between two and four wheel drive, which as an added bonus that allows the Xing Yue to achieve better fuel economy than a full-time four wheel drive model. Using an industry leading centrifugal electric hydraulic pump, the system is able to achieve a maximum torque distribution between front and rear wheel of 50:50. The four wheel drive system enables the Xing Yue to perform well in any road condition.
Precise control is helped by a DP-EPS electronic power steering system from ThyssenKrupp, with a transmission ratio of 15.7 and full turn radius of 2.7 rotations. An ASG intelligent variable intake grille helps reduce wind resistance, improves engine temperature control and AC heating system by actively adjusting the grille to improve vehicle performance, fuel economy, and interior comfort.
The Xing Yue comes with 20 inch Goodyear Eagle F1 Summer tires with a large 322*28mm front disc brake that gives the model a 100km/h braking distance of just 35.3m.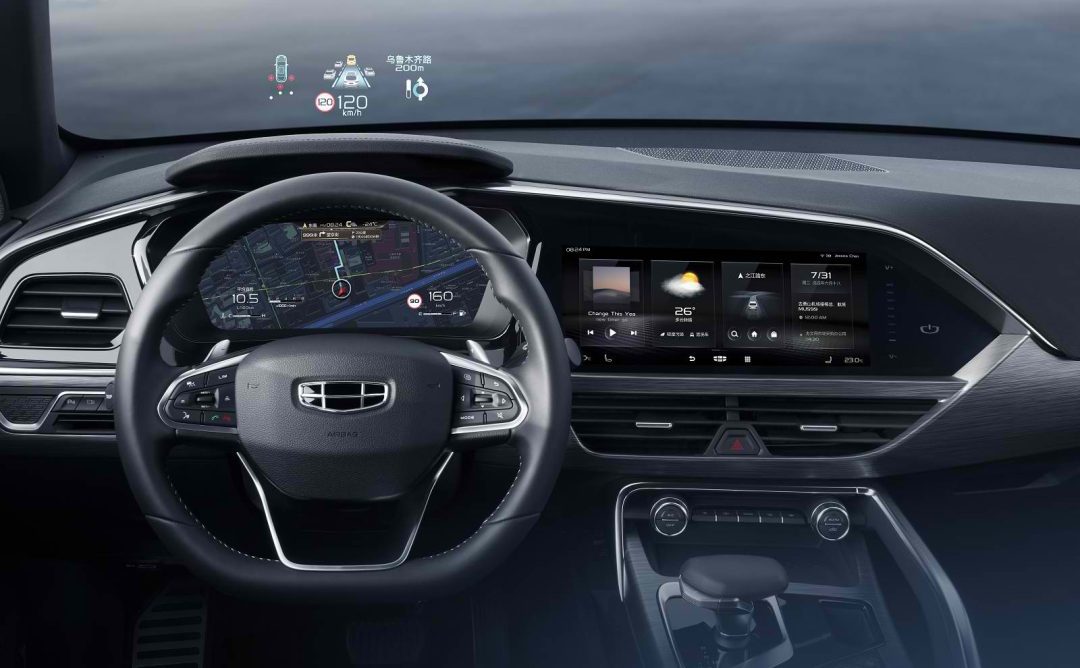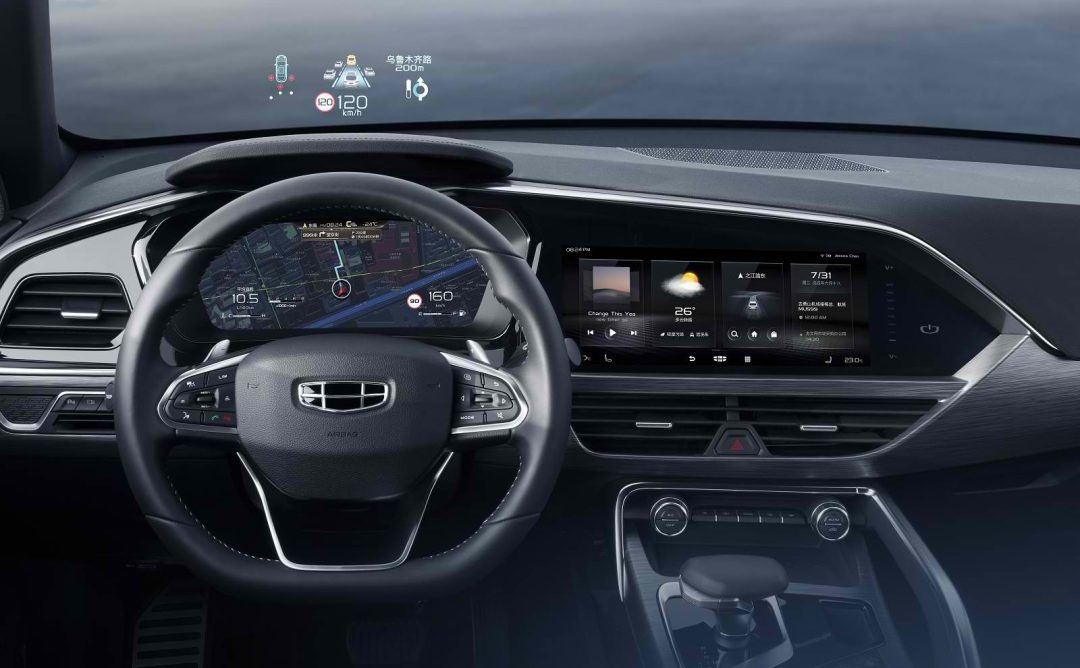 Intelligent Humanized Features, Improving Users Mobile Life
The Xing Yue is equipped with a Face-ID system which automatically adjust the vehicle settings such as seat position, mirrors, entertainment system, etc based on facial recognition. The system also improves driver safety by assessing and warning the driver of fatigue and distractions based on their facial expressions, including blink frequency or frequent yawning.
As with all new Geely Auto models, the Xing Yue comes with the latest GKUI Geely Smart Ecosystem connecting the occupants to the world. The latest version GKUI 2.0 comes with improved user interface, intelligent speech recognition, and navigation. The GKUI can be accessed either through the voice command, the 12.3 inch interactive central infotainment panel or the digital instrument panel.
Comprehensive Intelligent Safety
In terms of safety, Xing Yue inherits and improves on Geely's "safety identification circle" technologies. The Xing Yue comes with 22 exterior sensors, allowing it to reach L2 levels of intelligent driving with features such as ICC Intelligent Cruise Control, TJA Traffic Jam Assistance, Full Speed ACC Adaptive Cruise Control, LKS Lane Keeping System, etc.
Parking has been made easier with an APA automatic park assist system developed by Bosch, which can automatically scan for parking spots and park the Xing Yue with a push of a button. Along with 360° HD panoramic imaging system, parking has never been easier.
Helping keep driver's eyes on the road, the Xing Yue comes with a 9-inch large screen full-color HUD system displaying 9 different types of driving information. The HUD automatically adjusts its brightness according to the environment.
Three dimensional safety is achieved with intelligent features such as AEB-P automatic emergency brakes with pedestrian identification, RCW rear collision warning, SLIF speed limit identification, LCA lane change assist, BSD blind spot detection, DOW door open warning, etc. The Xing Yue is equipped to protect those inside, as well as outside.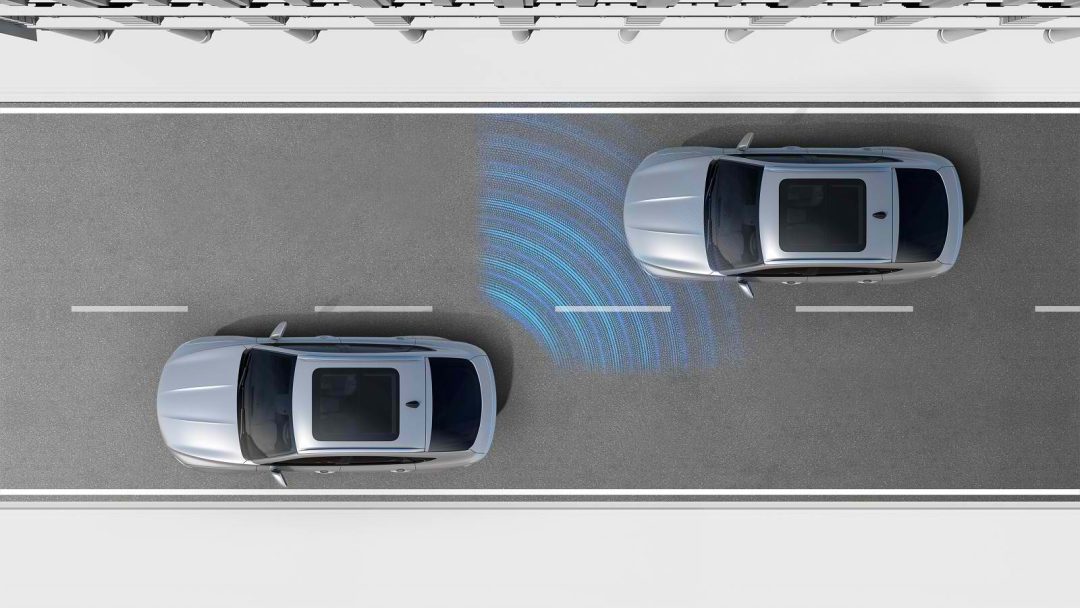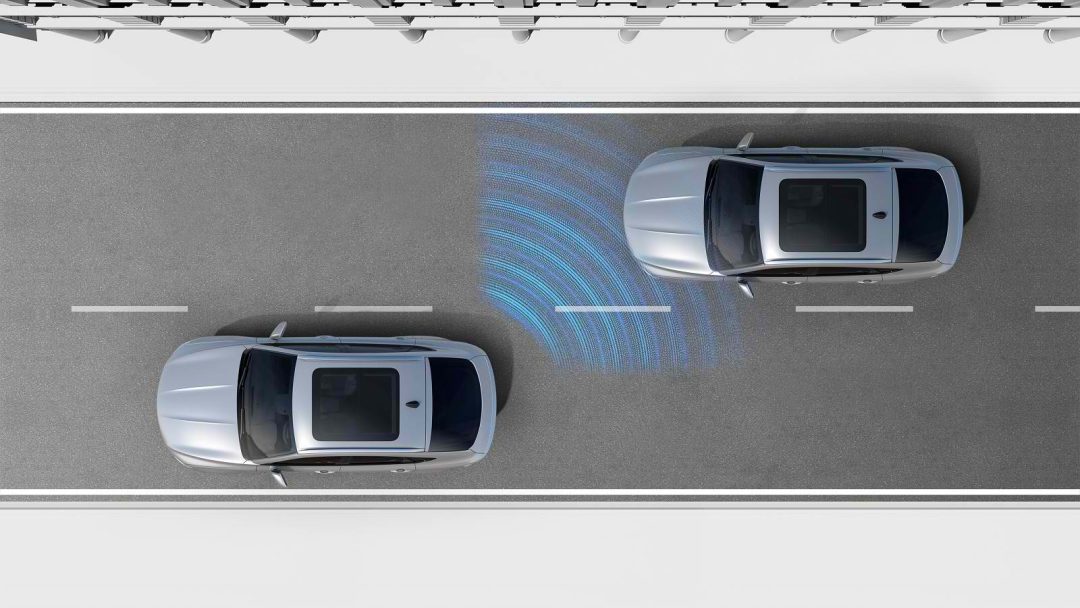 Capturing "The Moment" in Design
The Xing Yue adopts a design concept based around "The Moment," which draws inspiration from the dynamic moments in life and nature. Thanks to the flexibility and scalability of the CMA, Xing Yue is able to have a shorter front and rear overhang with an aspect ratio of only 0.87. The low center of gravity design gives the Coupe SUV a tense body posture like a wildcat ready to pounce.
As a driver oriented model, the Xing Yue uses Geely's newest all-black badge. The narrow and wide expanding universe grille is surround by a red rim, giving the model a sporty edge. From the side, a streamlined fastback style can be seen. The tail lamps are connected with a straight chrome strip making the model look wider from the back.
Inside, the Xing Yue adopts a driver-oriented interior design. The asymmetric layered dashboard adopt a flying wing design with a large central infotainment panel tilted slightly towards the driver. The layering allows for the placement of ambient mood lighting which changes based on the drivers desire. In addition, embossed black air vents, origami inspired door panels, electronic gear shifts, and other unique details come together to create a highly personalized sporty driver centric cabin.
Speaking at the launch, Vice President of Geely Design China, Guy Burgoyne said "Capturing "The Moment" within our broader "Accelerating through Time" design aesthetic, Xing Yue's design inspiration comes from those dynamic moments found throughout the cosmos and in nature. Fluid in its movements, a shape full of potential, and with extreme care paid to details, this is the premium Sports Coupe SUV we set out to create. We hope that you see the Xing Yue as not just a car, but something young customers dream of. When you're in the Xing Yue, you're in "The Moment."