• Multiple products to be introduced to Kuwait market
• Agreement celebrated at Ali Alghanim & Sons Automotive showroom in Shuwaikh industrial area.
2019 September 20, Kuwait. Ali Alghanim & Sons Automotive Co., one of Kuwait's leading importers of luxury vehicles, has signed an agreement with Chinese automotive giant Geely Auto Group to become the exclusive distributor for Geely Auto range of passenger vehicles in Kuwait.
The agreement was signed between Mr. Fahad Ali Alghanim, Managing Director of Ali Alghanim & Sons Automotive Co., and Mr. Xue Tao Assistant General Manager of Geely Auto International Company, at a signing ceremony conducted at the Ali Alghanim & Sons Automotive Showroom in the Shuwaikh area of Kuwait.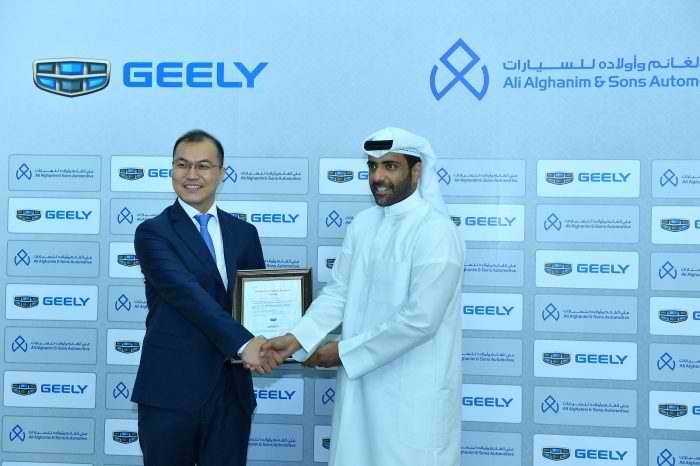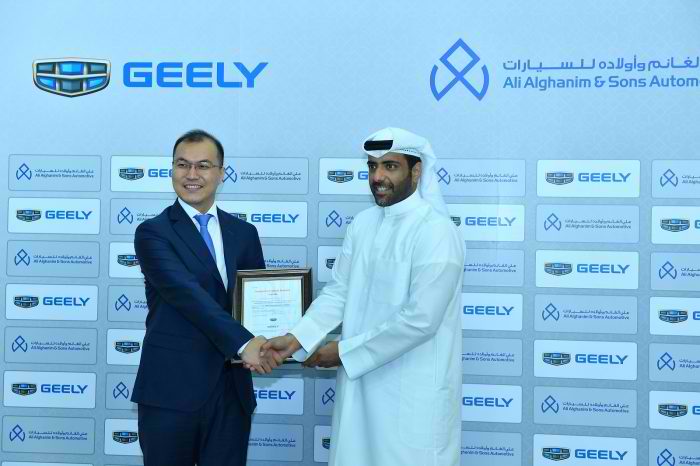 Speaking at the signing ceremony, Mr. Fahad Alghanim said: "Geely Auto is China's largest and fastest-growing automotive brands, with an impressive range of vehicles in their portfolio and strong technological expertise founded on decades of investment in global research and development. Geely Auto brand the perfect addition to the Ali Alghanim & Sons portfolio of high-quality automotive products, and this partnership will enable us to establish a strong customer base for the brand in Kuwait."
Mr. Xue Tao added: "Ali Alghanim & Sons is one of the most prestigious automotive dealerships in Kuwait, with an outstanding reputation for strong sales and after-sales service going back several decades. With their support, we look forward to establishing Geely Auto as one of Kuwait's most popular automotive brands. Our high-quality range of design driven and technologically-advanced passenger cars and SUVs will appeal to consumers that are looking for comfort, reliability and value-for-money, we are confident that they will receive exceptional level of support from Ali Alghanim & Sons."
About Ali Alghanim & Sons Automotive Co
Ali Alghanim & Sons Automotive Co was founded in 1986, and within just a few years it became the exclusive distributor of several world class luxury car brands such as, BMW, MINI, Rolls-Royce Motor Cars, Land Rover and McLaren. The company went on to build one of the world's largest automotive showrooms in the region, and the facility is now widely recognised as an architectural landmark in Kuwait. Today Ali Alghanim & Sons Automotive Co. offers a full line of customer support managed by the finest professionals in the industry and backed by superior after-sales services.